Meet Dr. Smith
My story,
People often ask me how I came to be a Chiropractor and like most chiropractors it stems from a personal experience.
Everything starts with horses…
ha ha, yes I was (still am) one of those girls.   
I grew up in the 70's in Maine and my first experience with horses was during 'free-school' – which was basically a preschool on a farm. One day, after what I can only imagine was months of daily whining, my teacher finally agreed to take me for a ride. We rode bareback, double and galloped through a field behind the barn so fast that I had tears streaming down my face. I think he was hoping to cure the daily whining but instead, I was hooked for life.
At the age of twelve I started my first business teaching riding lessons to local girls with the ranch pony my parents gifted me for my 9th birthday. I was always amazed that the students parents trusted me, a kid myself, with their child and a 1000 lb animal. Did I mention it was the 80's?
As an adult I moved to CA and had the pleasure of teaching lessons at some pretty "la-te-da" places like the Pebble Beach Equestrian Center. It was here where I was first introduced to Chiropractic, but it was the horses getting the adjustments.
Eventually I grew up and got an adult job as a systems analyst. I worked in a "bull pen" (a large cubicle) with 4 other computer nerds. I sat at a desk staring at a computer from 8am to 6pm every day hoping no one brought fish for lunch because, well, fish in a microwave…enough said. I know, I know it sounds so glamorous. Well, a few years later I decided it was time to start a family. So six months pregnant, sitting at my desk experiencing alot of pain in my lower back, weakness in my legs and not sleeping anymore, someone at work said "try a chiropractor." It was like a light bulb went off, like when you're walking around the house looking for the pair of sunglasses that are on top of your head, duh… then I remembered all the horses that seemed to really respond to the treatments. So I found a DC who worked with pregnant women and went.
My Chiropractor had these amazing tables that had a section that would drop down and make room for my big belly. It was AWESOME. What a treat to get to lay on your belly. I went three times the first week and by Saturday I was sleeping through the night, all my pain was resolving and the weakness in my legs was going away. I continued my treatment throughout the rest of my pregnancy. I remained comfortable and able to work right up until the day before my daughter was born. I believe the chiropractic care even made the delivery sooooo much easier. Three pushes and she was out, the labor was another story… so yes I can say my experience with chiropractic was "literally" life changing. Not only did I feel better right away and throughout the remainder of my pregnancy but the whole experience made me rethink things.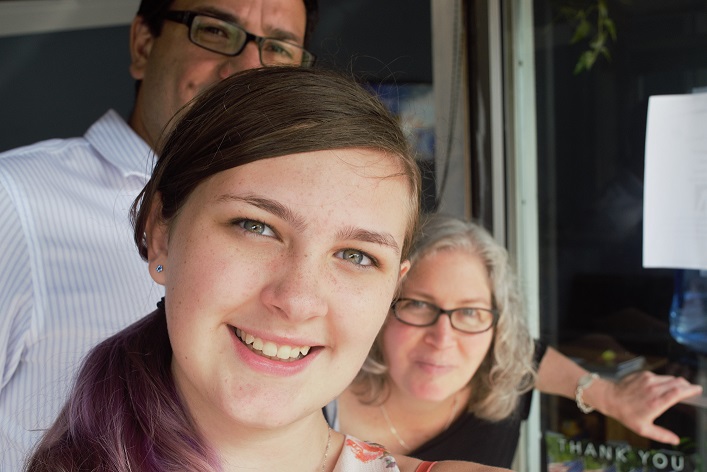 I returned to my bull pen after a month of maternity leave to a system analyst dry spell. There were no big projects, no upgrades, no currency conversions, nothing so everyday I found myself saying goodbye to my beautiful little baby only to sit and read the NY times cover to cover. It was the perfect storm for a good old life change. Within the year my family moved to Upstate NY and I was attending New York Chiropractic College.
When I graduated we moved to Massachusetts and I opened a small private practice called Berkshire Animal Chiropractic. I have had the pleasure of treating both (horse and rider teams) and (sport dogs and their handlers) and while it has been a wonderful and enriching time working with these teams, it has also proven to be a tremendous amount of traveling. I feel it is time now for the next step where I can really focus on the human experience and help a local community of people. I do still treat animals but the days of traveling from barn to barn are limited. Now we have a home away from home, an office full of the most wonderful patients, a lot of healing and quite a bit of laughter.